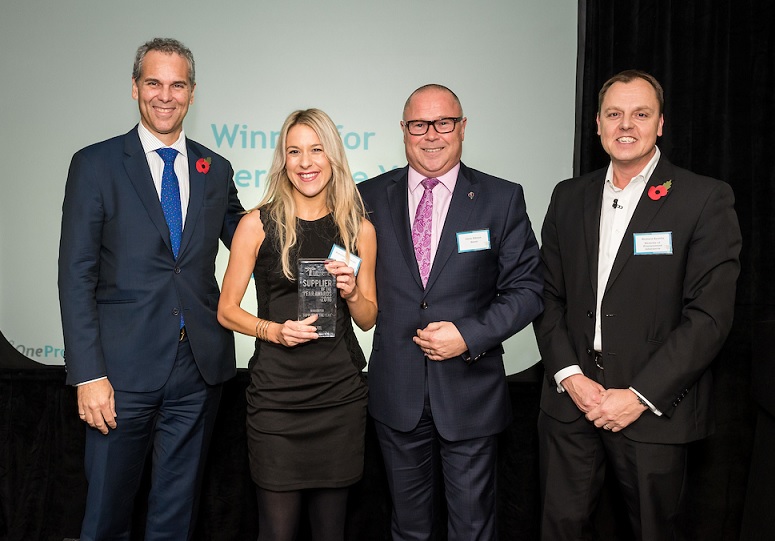 Rexel awarded 'Supplier of the Year' by Interserve FM
Rexel UK concluded 2016 as the proud recipient of two prestigious awards from Interserve FM at their Supplier Conference: 'Mobilisation of the Year', and the coveted 'Supplier of the Year 2016' award.
Interserve is one of the world's foremost support services and construction companies and Rexel tendered for the electrical category back in 2015. Rexel and Interserve quickly recognised synergies between the two businesses in terms of strategy, Values and people, and this, together with Rexel's in-depth understanding of the FM sector, provided perfect conditions for a strong relationship to develop and flourish from the outset.
The initial bid and negotiations were led by Richard Blain (National Sales Manager, FM), and a number of Rexel's specialist teams were then deployed to support the bid and contract mobilisation processes. These teams were aligned with their counterparts within Interserve, supporting efforts to win bids both within and outside of the UK. Working collaboratively with Interserve at all levels of the organisation, from board level to centrally, nationally and locally, provided a unique insight into Interserve's requirements, ultimately facilitating a successful mobilisation. Rexel's FM Team led by Wayne Bridgehouse and the National Account Manager Natasha Kurowski were instrumental in the mobilisation activity and continue to lead the contract going forward.
Chris Gibson, Corporate Sales Director, commented: 'This is a testament to the efforts of all involved in the winning, coordination and mobilisation of the contract with this customer. The local execution and commitment from all involved through National / Regional and local branch teams should be applauded and is a great example of how we can professionally deliver a business opportunity across multiple locations through a collaborative approach.'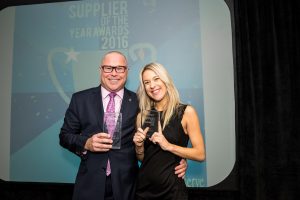 Chris Gibson, Corporate Sales Director and Natasha Kurowski, National Account Manager, with the awards for Mobilisation of the Year and Supplier of the Year