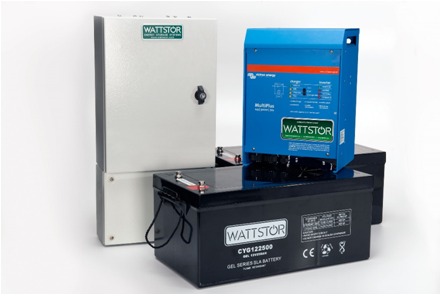 Is Britain braced for energy storage?
As the Government looks to raise the bar with its fifth carbon budget, the pressure is on to maximise clean energy generation and eliminate wastage. Here, Michael Fereday at Rexel explains why energy storage is the solution we've all been waiting for, ticking the right boxes for carbon reduction whilst helping to future guard our renewable future.
The UK remains a world leader when it comes to driving forward the new energy world. As the Government continues in its commitment to using cleaner energy, and less of it, the billions of pounds that have been invested in alternative energy sources which generate electricity from the wind, waves and plant waste, have certainly made an impact.
In addition, the UK has managed to reduce energy use by almost a fifth in recent years, as the transition from old, inefficient appliances to greener alternatives takes place.1 In fact, according to the latest Committee on Climate Change (CCC) report, Britain is actually over-achieving on current targets, with last year's emissions falling far below the level required2 – hence the introduction of an even more ambitious fifth carbon budget.
However, one stumbling block continues – our reliance on foreign energy sources. The latest national data reveals our reliance on energy imports is at its highest since the energy crisis of the late1970s1 With the implications of post Brexit still unclear and a large energy count sourced by the more volatile countries of Russia and Ukraine, the result of this over-reliance brings both security and supply concerns.
As such, it is paramount that that we not only invest in more clean, home-grown energy but leverage its full potential. And battery energy storage, largely coined the 'Holy Grail of renewables' is core to this – effectively revolutionising the way organisations and consumers alike utilise the 'free-energy' generated.
Battery energy storage, in summary, allows users to store excess electricity generated by, say, solar PV or a windfarm, throughout the day in order to make use of it during the evenings or during periods of low generation. This effectively bridges the gap between peak generation and peak demand, enabling users to maximise energy savings.
Recent research run in conjunction with the Carbon Trust3 predicts that energy storage could in fact deliver savings of up to £50 a year on an average consumer energy bill, and a system wide saving of up to £2.4 billion a year by 2030. Even more, the report also indicates that energy storage adoption offers the 'least-cost pathway' for the UK to meet CO2 reduction targets.
However, more than just savings, battery storage can help reap the full potential of energy generation. When it comes to solar, for example, it can help to increase a system's self-consumption capabilities to 70 per cent, and reduce the amount of energy sent back to the grid by 50 per cent. The latter of which is particularly pertinent for end-users, ensuring they are utilising all of the energy generated by their solar installation.
Once the market has matured, it will undoubtedly allow building owners to take control of their solar energy use, reducing the impact of fluctuations in the cost of energy and reducing reliance on the grid. There are of course also wider environmental benefits, such as carbon savings and, of course, reducing the need for foreign energy.
To future-gaze at the collosal potential, one need only look at a number of European countries, who have adopted battery storage to great success. In the German domestic market, for example, figures show over 30,000 battery storage units were supplied just two and a half years, with the market growing by around 35 per cent since 2010.4
Better yet, the cost for a new solar PV system has decreased by more than 50 per cent in the last three years, making the payback periods even more inviting for building owners that incorporate energy storage as part of the installation.
However, there are still obstacles to tackle before we achieve full-scale adoption. A key issue, for example, lies in complications when combining technology in both new and existing systems. Recent research by Innovate UK5 indicates that commercial buildings in the UK are producing an average of 3.8 times more carbon than estimated at their design stage. Much of this, according to the government-appointed body, can be attributed to the technology not being correctly integrated when installed and commissioned.
When selecting a battery storage system, it's important to look at estimated daily energy consumption (kWh), peak load time for the building, how much solar PV can be or is already installed and the anticipated generation of the system. This means specifiers can then calculate the correct battery capacity and whether a single or 3 phase supply set up is more appropriate. Space and location must also considered as this can impact on the way the battery packs are installed, i.e. is there easy access for both installation and maintenance, and any safety implications.
Equally, another concern lies in the fact that there is currently no regulation for battery storage in the UK, leaving massive scope for error. However, the IET (Institution of Engineering & Technology) is in the process of developing Codes of Practice for contractors – a move that Rexel UK strongly advocates, as it is vital for the industry to quickly establish best practise and a common language for the market as early on as possible. This can help alleviate some of the quality and performance stumbling blocks which faced the solar PV market when it first emerged back in 2005.
While the industry works to establish a standardised framework, we would strongly recommend engineers work closely with responsible manufacturers and suppliers that have taken the time to understand the market, the technology and the safety implications behind the products. For example, at Rexel we are working on the creation of a specification tool that to assist selection and correct sizing of an energy battery storage system, ensuring the correct load demand and consumption has been taken into account.
As Britain continues to push ahead with its ambitious energy revolution, it is vital that we lessen our dependence on imported energy in order to ensure our independence and safeguard our future. Battery storage, used in conjunction with solar, is key to this: enabling us to not only create home-grown clean energy but use it wisely and alleviate waste.
For further information please visit www.rexelenergysolutions.com